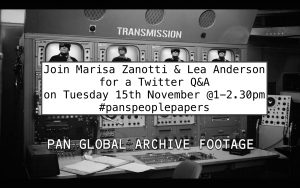 Join Marisa and Lea to hear all about their collaboration 
Pan's People Papers
, through an online Q&A.
The discussion will take place on Twitter via #panspeoplepapers 
@m1zanotti 
on Tuesday 15th November from 1pm-2.30pm.
The Pan's People Papers, is a project by writer-director Marisa Zanotti and choreographer Lea Anderson responding to the work of choreographer Flick Colby and the seminal 1970's dance group Pan's People.
The project presents 'papers' in different mediums and might be thought of as a kind of 'cultural enquiry' into events at the BBC in the 1970s.  The 'papers' take the form of short films, lectures and performances through an online website.
Please REGISTER your interest above.
Also feel free to submit questions ahead of the event by tweeting @m1zanotti #panspeoplepapers