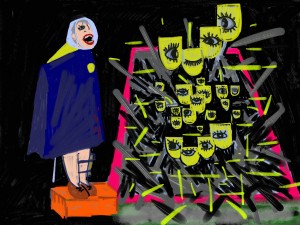 Lea is working on a production of Kurt Schwitter's Ursonate, that will be completed in 2015.
It is a danced version of this famous sound poem, with live vocalisation performed by Lea.
The dancers are Jacob Ingram-Dodd, Annie Hanauer, Belinda Neave and Inn Pang Oei. the designer is Tim Spooner and musical director is Steve Blake.
Choreography by Lea. (art work by Taeho Lee)